With Authors Steven Salvatore, Can't Take That Away, and Nicolas DiDomizio, Burn It All Down.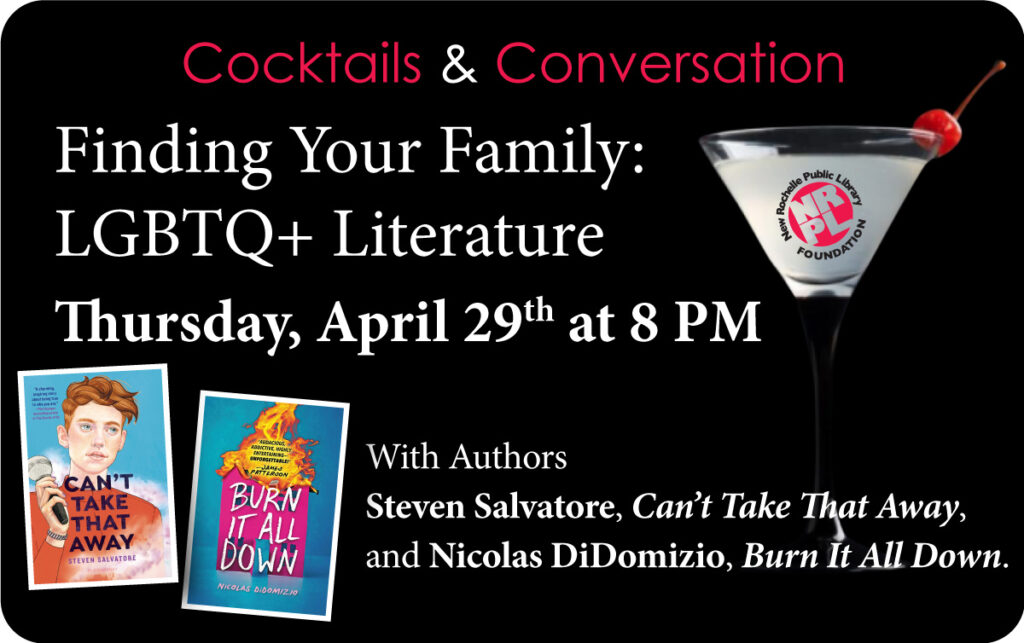 Join us for an evening of enlightening conversation as these YA authors talk about their wild – and weirdly parallel – roads to publication and the importance of strong support systems, especially as queer writers. Steven and Nicolas will share the ways in which family – found or blood related – have shown up in their work, and how they've shown up for each other. (Their books started as ideas in text messages to each other.)
These events are moderated by Amy Bass Ph.D., NRPL Foundation Board Member, historian and acclaimed author of One Goal: A Coach, A Team and the Game That Brought A Divided Town Together.
Admission is free but a $20 donation is suggested – and appreciated – to support the essential services provided by our Library. Participants sign up in advance to receive the Zoom link and the recipe for a signature cocktail to make – and enjoy – at home.
Our featured books are available for sale by special arrangement from Bronx River Books, a local independent bookstore. (37 Spencer Place, Scarsdale, 914-420-6396 or order online at www.bronxriverbooks.com).