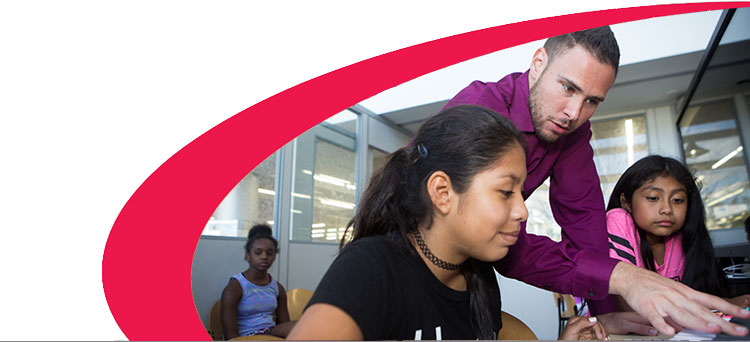 Digital Media Center Is Operating and Serving our Youth.
The Foundation is proud of our Digital Media Center – the top item on our 2016 wish list – opened July 5, 2016.  Thanks to the generosity of a first-time Foundation donor, Heath Windcliff, the Center is not only equipped with the latest Apple technology, it also offers free programming for teens interested in learning new video and technology skills.  For donor Heath Windcliff, "This was an opportunity to 'even the playing field' for some of the youngsters in our community.  Technology is expensive.  We want to make sure everyone has access to the powerful world of information."
Workshops for Teens
The NRPL Foundation funded a nine week summer program where all aspects of video production were taught.  According to Sean Harty, Instructor/Mentor at our Digital Media Lab, "These summer workshops give local youngsters basic video production skills, an introduction to the industry and an opportunity to express their creativity.  It's not just about what the students learn, it's about what they create within themselves that's most important."  Students work in teams and try their hands at writing, editing, camera production and sound.  At the end of the program everyone creates a demo reel with two original projects showcased in a short 60 second video.
Teens, Technology and Mentorships
The Digital Media Lab is located on the 2nd floor, in a secure space adjacent to the Teen Center.  In addition to the two fully-loaded Apple editing stations, the Lab is equipped with the tools to create original music and cameras for still and video production. 
Libraries have changed dramatically over the last 5 years.  According to Library Director Tom Geoffino, "Today's library is still about books, but it is also about shared information, technology and creating spaces for collaboration.  Creating mentorships and the opportunity for community youth to come together is an essential part of our plan for the future."  According to a recent article in The New York Times, "Public libraries are redefining their mission at a time when lack of access to technology, and the ability to use it, is said to deepen class stratification, leaving many poor and disadvantaged communities behind."