To keep our Library vital and able to serve families throughout our community:
FAMILY FAIR SCHEDULE HIGHLIGHTS

Sunday, October 3, 2021

A Renovated 2nd Floor Transforms Our Library

3:00 – 3:30 Ribbon Cutting

OSSIE DAVIS THEATER

1:00 – 1:45

Meet Meghan McCarthy – Award-winning children's author and illustrator will talk about her most recent book, "Strong Man – The Story of Charles Atlas." Meghan has visited 100's of schools sharing her love of writing and illustrating including some practical tips for aspiring young artists.

2:00 – 2:45

Magician Joseph Fields performs SuperHero magic

OUTDOOR GARDEN – CHILDREN'S ROOM

1:45 – 3:30

Test Your SuperHero Athletic Powers with an awesome Rock the Spectrum obstacle course.

3:45 – 4:45

Martial Arts SuperHero Demonstration by Hong Ik Martial Arts

TEEN ROOM

1:00 – 2:00

Video Game Tournament Registration

1:00 – 1:45

Virtual Meeting with rising star, Jerry Craft, New York Times bestselling and Newberry Award winning author of the graphic novel, "New Kid" and creator of the award-winning comic strip, Mama's Boyz.

2:00 – 4:30

Video Game Tournament

2:00 – 5:00

DYO BIC BodyMark

LIBRARY LOBBY

1:45 – 2:15

Meet Meghan McCarthy Book signing

1:45 – 4:00

Create your own Comic Book

2:00 – 4:00

SuperHero Arts & Crafts – make your own mask, cape and trading cards.

2:30 – 4:30

Dance Party with DJ Smithyboy

OSSIE DAVIS MEETING ROOM

3:45 – 4:30

Multi-lingual Shake Rattle & Roll named 2021 Best Music School by Westchester Magazine, will get toddlers, preschoolers, and their grown-ups moving and grooving. Bring instruments from home to join the fun.

LIBRARY GREEN

4:00 – 4:30

Super Movement Class by Coleman School of Dance
An Open House at the Library Featuring Children's Book Authors, Entertainment, Crafts and a Cornucopia of Fun Activities Showcasing the Library's Rich Programming and Educational Resources.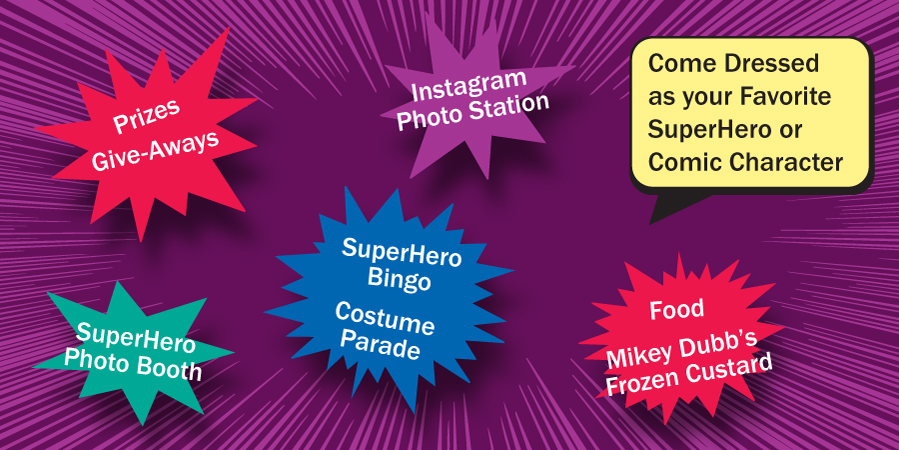 The New Rochelle Public Library's Main Branch is the centerpiece of a rapidly changing, revitalized downtown community, while the Huguenot Children's Library is unique in the County as the only free-standing children's library. Through their expansive, year-round creative programming, the two branches provide families invaluable resources that support learning, adventure and growth – all free to the public.
Join local politicians, community leaders and library supporters as we cut the ribbon and celebrate our newly renovated Second Floor of our main branch which includes the Handelman Business Opportunity Center, Teen Center, Local History Room, private study areas and expanded Spanish language collection. This $560,000 renovation was funded by a NY State Grant and a matching grant from the NRPL Foundation.
Family Fair Sponsors: